Monday 4 – Sunday 24 September
ASK, SEEK, KNOCK
Welcome to this season of 21 Days of Prayer with Fasting! I'm expectant for all that the Lord is going to do in us and through us as we seek Him. The specific focus of our time together is going to be on Jesus' amazing prayer promises in Luke 11:9-10. These promises are given in the broader context of a whole section on prayer in Luke 11:
In verse 1 we see that Jesus is praying and when He had finished, one of the disciples said to Him, "Lord, teach us to pray…"
In verses 2-4 we see that Jesus answers by using the framework of the Lord's Prayer, of which the fuller version is found in Matthew 6:9-13.
In verses 5-8 we see that Jesus then gives them a parable to illustrate the importance of bold, persistent praying with 'shameless audacity'.
He then makes these stunning promises:
Ask and it will be given to you; seek and you will find; knock and the door will be opened to you. For everyone who asks receives; he who seeks finds; and to him who knocks, the door will be opened." – Luke 11:9-10
On one level, Jesus is deliberately giving a six-fold repetition to emphasise the confidence we can have when we approach our Heavenly Father.
Significantly, each of the words, 'ask, seek, knock' are in the present continuous tense, which can be translated, 'ask and keep on asking, seek and keep on seeking, knock and keep on knocking.'
On another level, Jesus is giving us three different words to emphasise three different types of prayer. If we look at the rest of Scripture, there is, for example, a clear distinction between 'asking' which is generally connected to asking the Lord for something, and 'seeking' which is primarily used in the context of us seeking someone, the Lord Himself. These three types of prayer can be summarised as:
Prayers of PETITION (Ask)
Prayers of DEVOTION (Seek)
Prayers of INTERCESSION (Knock)
There is a clear overlap between all three, but for the purpose of us praying over the next 21 days, we're going to focus on each of these separately.
My prayer for all of us is that we will enter into a deeper revelation of the goodness of God, who loves to answer our prayers, as well as a deeper understanding of how we can play our part and partner with the Holy Spirit to see God's kingdom come on the earth.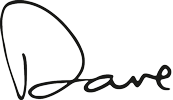 Dave Smith
Senior Pastor